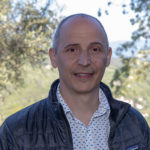 Al – Professional Photographer
Al has been a professional photographer for over 25 years; beginning with wedding photography, then specializing in baby photography. Al was previously the National Director of Photography for Canadian Baby Photographers. He has trained over 100 photographers across Canada and has photographed over 30,000 babies.
One of the most rewarding things about being a baby photographer is connecting and interacting with the baby, and seeing the reaction of mom and dad when they see their baby smile for the very first time. Al's experience with handling babies allows him to be patient and calm with the baby. He has often been called the "baby whisperer" by our satisfied customers. Al enjoys meeting the families and providing a physical memory that will last forever.
When not photographing babies, Al enjoys being outdoors canoeing, hiking and camping with his family.
"Al's skills with [our] baby were on point!"
"I was so impressed with Al's professionalism and quick work! Excellent experience! Gorgeous photos! So happy with my choice to book the baby photographers!"
"Al did an amazing job! Quick, easy, relaxed. Shots look amazing! I am very happy and excited to show these pictures to everyone!!!"
"Al is a great photographer and was so friendly and gentle with my baby. And he made the baby laugh and smile so quickly!"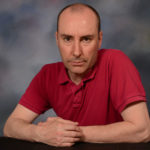 Andrew – Professional Photographer
Andrew discovered his love of photography while growing up in Scotland. He spent two years studying photography at Lauder Technical College in Fife before embarking on a five year spell as a cruise ship photographer, where he met his wife to be, subsequently starting a family here in Canada.
He soon started working as a baby photographer, and has brought his warmth and sense of humour to the role for more than 12 years. He joined The Baby Photographers in November of 2017, and hopes his unique perspective on life and photography will allow him to help the company become a household name.
When he's not holding a camera, he's usually found catching up on his beloved Liverpool Football Club, listening to his extensive vinyl record collection or annoying his two children with rubbish jokes.
"Andrew is really awesome and does such an amazing job. Very professional and polite, he is patient and makes the photo shoot a fun experience. Would definitely recommend the company to anyone needing photos. Thank you so much."
"[Andrew]  knew exactly how to handle my little one.I really appreciated the detail and effort he put into it. Thank you so much to everyone for their help in booking this opportunity!"
"Andrew was amazing super nice and patient. I loved all the pictures he took and how he kept trying till he got them just right."
"Andrew was amazing. He was punctual, professional and absolutely a delight to work with. Thank you for such an amazing service."
For more information or to book an appointment, please contact us.